Jan's Travel-Rama

Jan's Travel-Rama
Point Arena, CA
Tanzania
October, 1999
Tanzania, 1999 Diary
a day-to-day account of our adventures during
a camping safari with Abercrombie and Kent

(Click on any picture to get information and see an enlargement.)
Notes written on:
Wednesday, October 6, 1999

SFO (San Francisco International Airport)
16:39 PDT
So, here we are at SFO waiting ... Our plane, scheduled to leave at 16:05, is delayed and now scheduled for 17:45. This is why we fly to Tanzania with only one stop and a long layover. At least our plane is here. We're waiting for it to be prepared so we can board. The gate area is quite full today.
Notes written on:
Thursday, October 7, 1999
Somewhere over England
02:04 PDT
Well, maybe "over England" is wishful thinking. We're about 1.5 hours from Amsterdam. It is 11:04 Amsterdam time. The cabin crew woke us a few minutes ago. "Wake" is also wishful thinking. I don't sleep on airplanes.

Jack is trying to reset his watch. He might get it done before he has to do it again in Arusha. Breakfast just rolled by. I took a peek out the window and it is very bright out there. There is a thick layer of ice on the bottom third of the window. We're flying at 37,000 feet and the outside temperature is -61 degrees F. or -51 degrees C. The sunset as we left SFO was glorious - all purple, orange and pink.

Time to eat! The Dutch make such wonderfully tasty rolls - have to look for a recipe.
Notes written on:
Friday, October 8, 1999
Golden Tulip Schiphol Hotel
Outside Amsterdam
03:43 Local Time
We landed yesterday at about noon and got our passports stamped with no line. That is a first! We then waited FOREVER for our luggage - all arrived safely - and proceeded to the hotel. En route, we discovered that we could buy Dutch bulbs at Schiphol to take home. We'll have to investigate this on the return trip.

The weather in Amsterdam is cool and cloudy. Temperatures are in the 50's F. The bed in our hotel room is huge - maybe an acre. We watched CNN International for a while and crashed. Now we're having tea and biscuits, showers then we repack and go again.
Notes written on:
Friday, October 8, 1999
flying over North Africa
14:47 Holland Time
It is still Friday. It is 14:47 Holland time - Bye Holland - and 15:47 Arusha time. We had breakfast at the hotel - great rolls, cheese and roast beef.

A little while ago we flew over the Swiss alps at 29,000 feet - we could almost reach down and grab a handful of snow. Then we flew down the boot of Italy and over Naples and Mt. Vesuvius. Great view of the top of the volcano. We then went over the Mediterranean and over the deserts of Sudan and Ethiopia heading over Kenya and into Arusha.
Notes written on:
Saturday, October 9, 1999
Mt. Meru Game Reserve, Room #2
Arusha, Tanzania
07:55 Local Time

We've been up since before dawn. Our room is the end of the building right at the lake. There are lots of ibis, heron, pea fowl, storks, a flamingo, Egyptian Geese. There are also a herd of zebra and an herd of eland that came to drink and left. Two male and two female ostrich paraded by the porch (about 5-8 feet from us) and wondered why we weren't afraid.

It is mating season in Tanzania. Already today we've watch the male ostrich pass on his DNA as did a zebra. The peacock is also trying to impress the females with a display of his tail.
To see a collection of photos taken at Mt. Meru Game Reserve, please click here.
Notes written on:
Saturday, October 9, 1999
Mbweha Campsite, Tent #5
Tarangire National Park
Somewhere in Tanzania
after dinner
At about 14:00 we left Mt. Meru and drove in our Toyota Land Cruisers through Arusha on our way to Tarangire. En route, it was market day with everyone buying, selling or carrying something. We also passed a community meeting in one of the villages. The men were in one group and the women in another.

After getting into the park, the game viewing began. There was a baby elephant who was very tiny and just wanted to play with (and chew on) an older sibling. We must have seen 20-30 elephant along with a large variety of birds, ostrich, cape buffalo, wildebeest, zebra, warthog, vervet monkeys, impala, mongoose and giraffe.

The sunset this evening was wonderfully red, orange and purple. Now it is time for bed. We'll be up again at 05:30 for a 06:00 game drive.
Notes written on:
Sunday, October 10, 1999
Mbweha Campsite, Tent #5
Tarangire National Park
Somewhere in Tanzania
10:05 Local Time
This morning we were up at 05:00 - couldn't sleep any longer. Our game drive was glorious. We saw lots of birds and larger animals. After breakfast we went out again to view more animals.

At this time of year, the park is dry. There are many spots where there has been water, the animals have dug in the mud, and now it is dry. The only water seems to be at the river and that is only a trickle. The native salvia that we saw last year is dry and lifeless. The Solanum Tomato (called Sadam's Apple) has no leaves but some still have their small, yellow highly toxic tomatoes. The park is hip-deep in Yellow-Necked Spur Fowl and Helmeted Guinea Fowl. Perhaps with the tall grasses last year from the El Nino, there was less predation.

This is our third trip to Africa and our second time around on a camping safari. Although it is still a thrill to see the animals, this time we are more interested in watching animal behavior. We saw a huge impala harem with one buck and about 30 females. They looked like they were doing very well. The buffalo herd that we saw had about 200 members. It was called a "breeding herd" and included many females and young. These animals don't often see safari vehicles and they ran when we drove up leaving the old males behind.

There are also a lot of baby elephants in the park. Elias, our guide, told us that when the elephants have stress due to hunting, habitat loss etc., they stop reproducing. These elephants must be very happy here. The babies play and misbehave and their mothers are incredibly tolerant.

I've never before seen a herd of eland. There were about 30 of them. Eland is the world's largest antelope. The old males are gray in color. The others are brown.
Notes written on:
Monday, October 11, 1999
Mbweha Campsite, Tent #5
Tarangire National Park
Somewhere in Tanzania
06:16 Local Time
I've been awake since 02:30 and up since 05:00. The Magpie Shrikes are having breakfast in the bush about 8 feet ahead of me as I sit on the verandah of our tent. The Sausage Tree above us started humming about half an hour ago when the bees awoke. Today is very different from yesterday. Yesterday was cloudy and the park was quiet when we left camp at 06:00. Today, the birds started singing about an hour before daylight - at about 04:30. The hyenas and baboon were in camp last night with an elephant. Maybe it is the elephant that came to lunch yesterday, munching the brush about 150 feet from our tents.

We're on the road this morning to Lake Manyara and Gibbs Farm for the night.

To see a collection of photos taken at Tarangire National Park, please click here.
Notes written on:
Monday, October 11, 1999
Gibbs Farm
Ngorongoro Highlands
Somewhere in Tanzania
17:16 Local Time
It is sunny and warm here. We've just been served coffee and cookies in the garden that overlooks the rest of the world. We saw a lot in Tarangire. Our Sunday morning drive included tracking (literally) a pride of 3 lions (one male and 2 females) who killed a large wildebeest, ate almost all of it, and then laid down beside it in the road to sleep.

We also found a teenage male elephant who was feeling quite important. He flared his ears, stamped the earth, and tried to push over a tree. There are really a lot of these "teenage" elephants here. The other day, we were following one of the other trucks down a road, they rounded a corner and disappeared as we heard an elephant trumpet (sounds just like C. B. deMille). When we came around the corner, a "frisky" young, male elephant, who was with an adult and a baby, trumpeted again and charged the truck. We all stopped and everyone, human and elephant alike, calmed down. We drove off.

Occasionally in Tarangire, we came across a Baobab Tree with what looks like a burn scar that is black on the edge and brown in the middle - and furry. It is the home of honey bees.

Today was the time to see amazing things. There was a giraffe day care center with 3 baby giraffe - one estimated to be less than a month old - and one mother to tend them. She would nurse any of the young who was hungry. As we drove into Lake Manyara, there was a giraffe right beside the road. We got to watch as it very carefully ate acacia leaves using its 18 inch tongue to get them from around the 1-2 inch thorns. The giraffe would stretch up from the ground and extend its tongue to a branch and pull the branch into its mouth.

The most amazing thing that we saw at Lake Manyara were the elephants in the lake. One group was swimming and actually having intercourse in the water. The male mounted the female who submerged using her trunk as a snorkel.

Lake Manyara is the home to a large number of monkeys and a lot of baby baboon. One mother baboon had a baby that was estimated to be less than a week old. It was already mobile and finding things on the ground to put into its mouth.

The sun has just disappeared behind the hill. I need to change into warmer clothes. The ride up here was dusty but the views were still spectacular as we drove from the lake at 3000 feet elevation to the farm at 5000 feet.
To see a collection of photos taken at Lake Manyara National Park, please click here.
Notes written on:
Tuesday, October 12, 1999
Gibbs Farm
Ngorongoro Highlands
Somewhere in Tanzania
09:32 Local Time
Breakfast this morning was eggs, fruit, papaya juice, banana muffins and rhubarb that is surprisingly good with granola. It is rainy and misty today. Jack is busy cleaning the camera gear. We've finished packing and have time to relax in the garden. Yesterday at Lake Manyara we came across a troop of baboon who were going through a fairly old and dry pile of elephant dung. It was a couple of adults and several young. They were looking for lunch - seeds, insects and minerals etc. to supplement their diet.


To see

a collection of

photos taken at Gibbs Farm, please click here.




Notes written on:
Wednesday, October 13, 1999
Tembo B Campsite, Tent #5
on the rim of the Ngorongoro Crater
Somewhere in Tanzania
14:26 Local Time
Yesterday after the best lunch on safari, we had a short seminar, mounted our trusty steeds and moved on up the mountain. By then the rain and mist had burned off and the sun was shining. There was even sunshine at camp on the rim of the Crater.

After having lamb for dinner, we were in bed by 20:30. This morning we were in our trucks by 06:30. One of the first animals we came across on our way down the inside of the Crater was a silver backed jackal with 2 pups - so cute. When we stopped, the mother ran up the hill and the babies flattened to the ground. When we drove off, the little ones sat up.

Of the approximately 20 black rhinoceros in the Crater, we saw almost half today. We also saw more hippopotamus than we knew were here. There was even a solitary one walking across the plain. Yes, hippos do get out of the water. Most of our time in the Crater this morning was spent in the forest of yellow-bark acacia trees. These trees are called "fever trees" because they were once thought to be the cause of malaria.

In a little part of the lake where springs and the streams from the Crater highlands bring in fresh water, there is a riparian area with all sorts of birds. There were also about 20 hippopotamus and a buffalo in the water plants up to its shoulders - eating. He really got into his food.

While we were watching the flamingos in the lake, we were also watching about 10 hyena that were "cooling their stomachs" in the mud. Evidently, they eat the bones of their kills and have to cool off to digest. With them was a golden jackal who no doubt had joined the breakfast crowd.

Above the riparian area, on a knoll, was a lion group with cubs. We watched for over half an hour as a lioness crept up on some zebra. Too many cars - too much distraction. As we were watching the lion, someone yelled, "Bees!" and a swarm flew through. We all sat down and closed the windows. In just a few seconds the bees were gone and we were up and watching again.

Lunch today, in camp, was Indian food - curry. Delicious !! The shower after lunch was hot and our shower area is very sunny and warm.
Notes written on:
Thursday, October 14, 1999
Tembo B Campsite, Tent #5
on the rim of the Ngorongoro Crater
Somewhere in Tanzania
12:29 Local Time
We're awaiting the return of the last safari truck so we can start lunch. Yesterday afternoon's game drive was very good. The gazelle are numerous. Grant's Gazelle are larger and their black stripes are less black and their white rumps extend above their tails. The Thomson's Gazelle (named for a "white snake-oil salesman" who was one of the first into the area) are smaller, with an obvious black stripe and their brown back extends down to their tails.

Along with the gazelle, our safari vehicle literally waded through the herd of wildebeest and zebra. Then we went to "see the lions". A lioness (the one from the hippo pool) had 3 cubs. She had killed a Grant's Gazelle and the cubs were eating. Just like Yoda of the Three Kitty Kompany, the smallest cub of the litter wanted to play rather than to eat.

This morning, we were up early and in the Crater to see the rhinoceros again; this morning there were 7 rhinos. On the way down the Crater wall, we came across a male lion walking along the road. He walked right under the truck window and then across to join his friends on the hill. Further down the wall, there was a lioness who had a kill. She was eating and around her (about 20 feet away) was a ring of silver-back jackals. We counted over a dozen jackals all waiting their turn for breakfast.

After our picnic breakfast this morning we saw our first kill as a Secretary Bird found a snake that was about 3 feet long. He stomped it, pecked it and finally swallowed it like spaghetti.

On the way back to camp we found the lions sitting on the hill again - 4 adult males together. Across the road was a 5th male - older and larger with a black mane that extended down between his front legs. He was with a female with whom he had just mated. They walked around together trying to get across the road amidst the herd of 17 tourist trucks (aka "White-Crested Toyotas") that were parked for photos.

To see a collection of photos taken at Ngorongoro Crater National Park, please click here.
Notes written on:
Saturday, October 16, 1999
Serengeti Serena Lodge
Poolside
Somewhere in Tanzania
13:46 Local Time
So, where were we? I believe it was the Thursday afternoon game drive. As we drove down into the Crater, again, the 4 male lions were still on the hill. The mated pair were resting in a dry stream bed. We opted not to bother them.

Everywhere you look in the Crater there are ostrich and most of the males are in rut. You can tell because their necks and legs are bright pink. It does make a nice picture.

We asked Joseph if we could go and see the herd of wildebeest and zebra. We had a great time communicating with the wildebeest (They moo like a cow.) and the zebra (They bray like a donkey.). Their cattle egret and blacksmith plover pals (For the uninitiated, those are birds.) were everywhere. As the grazing animals move around, they scare up insects that the birds consume in great numbers.

Toward one side of the Crater is a high hill called "Lookout Rock". We drove up and over. The view from the top is spectacular. It is rumored that the hill is the top of the volcano that collapsed into the caldera that became the Crater. As we were driving down from Lookout Rock, we came across a Serval cat. It is sort of like a large, elongated housecat that is all spots and stripes. It was chasing something (maybe a rodent) in the grass.

Thursday night was very clear and very cold. We were all glad to break camp yesterday and move to lower altitudes and warmer climates. After breakfast we game drove across the Crater floor one more time. The mating lion pair were in the same place. The 4 male lions were several miles away at the lake. Not far from them were 2 other male lions, more mature, who were downwind, agitated and were scent-marking and roaring. We figured that the turf war of the "Crips and the Bloods" would happen Friday night. The 2 older lions were more experienced. The 4 younger lions had quantity but unless they could work together their numbers .wouldn't help

After crossing the Crater, we drove up to the top of the rim and went off to Olduvai Gorge via a Masai village. In the village lived 3 families - about 80 people. The older men were out with the herds. Some of the women were out gathering firewood. The toddlers were shy as were the young women who were dancing for the young men. The young men spoke very good English and each of us who was interested in buying their beadwork and other handicrafts had a "personal shopper" who helped with negotiations, monetary exchange etc. After I made my purchase of a seed necklace, I handed the money to my personal shopper and then watched as the young woman whose product I had bought harangued him, playfully, as he turned over the cash.

After the village, it was off to Olduvai Gorge and a picnic lunch. Olduvai was originally named Oldupai by the Masai for the sisal-producing sansevieria that grows there. A German scientist who was collecting butterflies at the Gorge found the first human artifacts and misnamed the Gorge. The archeological site has grown from there.

To see a collection of photos taken at the Masai village and Olduvai Gorge, please click here.

On the way to the Serengeti Serena Lodge, we passed through the plains - devoid of grazing animals. The "great herd" of wildebeest and zebra are in the north in the Masai Mara at this time of year. There are, however, lots of huge ostrich, gazelles, topi and hartebeest. We also came across a leopard in a tree, and a female lion wearing a radio collar. Zoological researchers are following several prides with radio transmitters. We chased many Thomson's Gazelles. In running away, two "Tommies" were traveling next to each other. The one on the right turned left and the one on the left turned right and they bumped bodies, bounced off and ran apart.

Well, it is back to the trucks for the afternoon game drive and to camp tonight.
Notes written on:
Saturday, October 16, 1999
Campsite #10, Tent #5
Serengeti National Park
Somewhere in Tanzania
21:30 Local Time
Our morning game drive was quite special. Just down the road from the Lodge was a group of giraffe including one that Elias estimated to be 2-3 weeks old. It still had its umbilical cord. There was also a topi group of 4 females, each with a baby. The youngest of the baby topies was so young that it's legs still bent outwards for balance.

Beneath a tree we came upon a male lion who was very stressed and not well fed. Elias explained that when the game animals are scarce, the lion prides will scatter. Unfortunately the male lions aren't agile enough to catch the impala and gazelle that are the only prey available and the female lions aren't around so the males slowly starve.

Cheetah's normally give birth to a litter of between 1 and 4 cubs. We found a mother cheetah with 6 cubs - about 8-9 months old - sub-adults. They all still depended upon her for prey but since she'd gotten this far, she is most likely a very good hunter. When we were leaving, one young cheetah tried to climb a tree - yeah, right. It fell backwards.

There was, however, a lion cub perched in the crotch of another tree that his family (and extended family) was under. He was awkward and uncomfortable with legs and tail hanging everywhere. He wanted to get down but didn't want to land on the other lions and didn't want to look dumb. His extended family totalled 4 adult females and 16 cubs - all about the same age. One of the cubs was suckling off of several mothers - going from one to the next like a bar-fly.

It is so dry at this time of year that most of the animals are at the river. This includes many elephants. In one group, there must have been 6-8 that ganged up and tried to push over a small tree. We came across a second group at a place where the road crosses the river. We couldn't cross the river until the elephants left. They couldn't come up from the river without getting close to us. They had several young and one tiny elephant who couldn't make the big step onto the road. The adult elephants trumpeted, stamped their feet, flared their ears and challenged us. They presented a unified front of 2-3 adults and one half-grown elephant. The little ones were well hidden behind. Eventually all the cars parked with us backed up and we moved a few feet. the elephants crossed the road and started knocking down the trees. They actually put the tree between their tusks and pushed. When the tree started to break, they twisted their heads and the tree broke a few feet off the ground.

From the "elephant wars" we went to the "dikdik wars". The dikdik is the world's smallest antelope - about 14 inches high. There were 2 male dikdik in a dispute over a territory. They would hop towards each other in a mock charge and then back up. Once they even locked their tiny 3 inch horns and one flipped the other over - just like impala or other antelope but in miniature.

Then it was back to camp where we await the arrival of the hyena that we passed (just around the corner) and the baboons who are on the kopje that is in the middle of camp.
Notes written on:
Sunday, October 17, 1999
Campsite #10, Tent #5
Serengeti National Park

Somewhere in Tanzania
21:18 Local Time
We were up and out before dawn today. The sunrise over the plains was red and spectacular. Just after sunrise, we came across 3 hyena families emerging from their dens. Each had 2 adults and 2 pups. The dominant female came out first followed by a second adult and finally the pups. The pups immediately began running and playing. The dominant female then trotted off to hunt - sort of like seeing Mom off to work.

We managed to find the cheetah family again. The 7 cheetahs crossed a field and surrounded our truck. (We surrendered.) One kept looking at the truck as if to ask if he/she could come up on the hood. The mother moved off so the cub left. All the time the cubs were close to us, they were making a quiet trilling noise - almost a purr.

To see a collection of photos taken at Serengeti National Park, please click here.
Notes written on:
Wednesday, October 20, 1999
Golden Tulip Schiphol Hotel
Outside Amsterdam
13:44 Local Time
Monday morning was early breakfast in camp and out to the Kopjes for game viewing. Because the "great herd" of hundreds of thousands of wildebeest and zebra are in the Masai Mara at this time of year, we got to see the thousands of Thomson's and Grant's gazelles. They gather in groups of 20-50 and there are 2 groups (one on each side of the road) every few feet. When there are small acacia trees available, each tree will have a Tommy under it - or maybe each Tommy will have a tree over it - sort of like personal shade assistants. On the way back from the Kopjes we received a call on the radio that was, strangely enough, in English. The call was for us to proceed to Turner Springs as quickly as possible. When we arrived, our camp lorry, kitchen and kitchen staff were there to serve us a "bush lunch". What a wonderful surprise.


To see

a collection of

photos taken in our campsites, please click here.
Tuesday morning after breakfast of porrage, eggs and passion fruit juice we mounted up, said farewell to the camp staff and went off to the Serengeti Visitor's Center where a wonderful docent gave us a tour. This is easily the best visitor's center that I've ever seen - both artistically and from an interpretive point of view. It is sponsored by the Frankfurt Zoological Society.

After an hour in the Visitor's Center, we went to the airport, said "good-bye" to Joseph and piled into the 14 seat airplane. We were so heavy taking off that the pilot commented about our having big breakfasts. In Arusha, we shopped at the Cultural Heritage Center and, after lunch, went back to Mt. Meru to relax, repack and refresh.
Notes written on: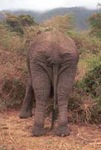 Thursday, January 27, 2000
Our Living Room
La Honda, CA
We've developed the 60+ rolls of film, chosen the best 500 and are databasing their content. Earlier this week we received Abercrombie and Kent's new safari brochure. We'll go back in February or March of 2001 to see the wildebeest calve. THE END.
There are still more photos. Please click here to find them.

If you want to comment on our Website, please feel free to contact Wookie at 3kitty.org.
Website v2.1 design by Three Kitty Komputing, Point Arena, CA