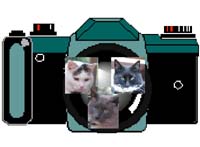 Three Kitty Photo
Point Arena, CA
La Honda Fire Brigade Photo Gallery
The La Honda Fire Brigade not only drills for and responds to emergencies. They are also one of the social centers of La Honda. During our years in La Honda, Jack photographed the summer Street Faires, the winter Christmas Faires, the spring Crab Cioppino fund raisers and other events. Below are some of our favorite photos.
The La Honda Street Faire was a music event for the entire community, for the benefit of the La Honda Elementary School. The Fire Brigade offered food and the Neighborhood Emergency Services Team (NEST) sold old-fashioned sno-cones.

The La Honda Christmas Faire was sponsored by the Fire Brigade. The fire engines were removed and the fire house was decorated to become a holiday festival. Local artists and craftspeople sold a variety of food and gifts.
The La Honda Fire Brigade is a non-profit organization that raises money throughout the year. Its largest event is in the spring when a Crab Cioppino feast is held. Again the fire engines are removed and the fire house is decorated to become a dining and dancing extravaganza.




If you want to comment on our Website, please feel free to contact Wookie at 3kitty.org.
Website design by Three Kitty Komputing, La Honda, CA