Three Kitty Photo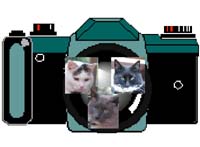 Three Kitty Photo
Point Arena, CA
Jack's Fire Safety House Photos
The La Honda Fire Brigade arranged for the "Survive Alive" fire safety house to be brought to La Honda Elementary School so the students could practice climbing out the window of a smoke-filled building.


La Honda Elementary
School


Classes line up to go through the fire safety house


Menlo Park Fire and the Junior League of Palo Alto sponsored the "Survive Alive" house


After going through the kitchen and living room, you have to escape from a smoke-filled room


CDF firefighters are on hand to help the kids come out the window and down a ladder


Everyone goes through the
"burning" house




The kids have to trust
the firefighter




Even the reporter from the Half Moon Bay Review makes it out



Some of the kids really get into their role



Holding your shirt over your mouth helps in the smoke


The smoke is non-toxic but still hard to see through


The school principal also has to go through, of course !


Everyone has their own technique for climbing out the window


Chief Whitney of the La Honda Fire Brigade explains the operation of the fire engine


The air mask allows the firefighter to breathe in the smoke.


One class learns about breathing equipment while another checks out Rescue 57


Lieutenant Bevin (another La Honda volunteer) explains how all the medical gear is used to help victims

The End
If you want to comment on our Website, please feel free to contact Wookie at 3kitty.org.
Website design by Three Kitty Komputing, La Honda, CA