The elevation
at our home is approximately 400 feet above sea level with varied topography vegetation. Being less than a mile from the ocean, there are blue water views, occasionally of ships sailing up and down the coast or of migrating whales. The elevation also provides sunshine and warmth but not extreme heat as our home is above the fog, wind and glare of the ocean yet below the heat of the ridge environment.

Two ancient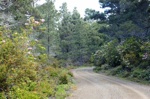 marine terraces

make up the 20 acres of the estate.
On the upper terrace, the private, level driveway
was once an old logging road.
Set off an improved Mendocino County road, it meanders for about 800 feet
through
huckleberry
bushes and native rhododendron,
opening to a circular turn-around designed to easily
accommodate
the needs of guests or
large
service and delivery vehicles.
After driving in
,
the only house seen is
ours, as the size and shape of the
estate
affords us
total privacy
from both neighbors and the street.
The house is set to look down into the forest of the marine terrace below and across the ocean to the horizon.

An additional private, old logging road, easily accesses the lower marine terrace and its open meadow.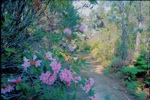 The foliage and vegetation

on the 20 acres varies by elevation, soil and
water conditions.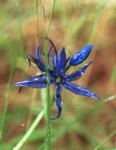 Trees include
several species of Manzanita, Madrone, Oak, Chinquapin, Coffeeberry, Bishop Pine
, Fir and Redwood.
Understory shrubs include Huckleberry, California Rhododendron, Wax Myrtle and Labrador Tea.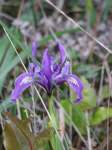 There
are many dozen different forest
floor plants. Each has its own physical niche and its own season to flower.
Some of the most obvious are
Bear Grass, Douglas Iris, Indian Warrior, Blue-Eyed Grass and the Everg
reen
Violet. Two different wild lilies grace various areas in the Summer. In the Spring, Douglas Iris and
Common Camas fill acres in the meadow.


Wild mushrooms
grow well in the moister forested areas. Edible mushrooms are harvested
each Fall in large numbers. Acres of wild
huckleberries are available for harvest in the Summer.



Because

of the proximity of the ocean, the weather is mild all year. This contributes to
an ideal climate for growing a variety of flowers and vegetables. Additionally, because of the geography of the coastline in the area and the off-shore water currents, our property is in what is locally called the Banana Belt
. This is an area of about a handful of miles where the cold, ocean fog mostly stays off shore and the land enjoys sunshine. Winter storms bring rain veils
extending from storm clouds to the ocean
that you can actually watch as they move down the coast.
Nature abounds

. With a small amount of the 20 acres improved, the property can either remain preserved for wildlife or further developed to match the imagination. There are no neighborhood association or CC&R restrictions. Large, flat areas are available as well as gentle sloping areas. Privacy is assured as there are no nearby public trails.